Coupon Code: KMGBLOGGING
| | |
| --- | --- |
| Larry E. Stiers – We're all in this together. Support the charities you love this Earth Day. | View Online |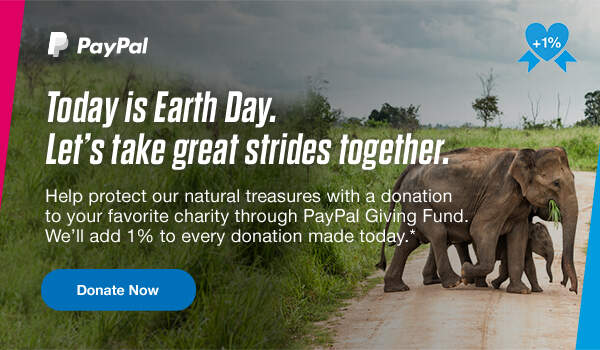 Here are just a couple of the trusted charities working to protect our planet and its inhabitants, large and small.

*Terms for PayPal adding 1% when donations are made through PayPal Giving Fund.

Timing: PayPal Giving Fund % Donation Match Earth Day Campaign begins at 12:00:00 AM Pacific Time (PT) on April 17, 2016 and ends at 11:59:59 PM PT on April 23, 2016 (the "Offer Period").

Offer Description: Make a donation using PayPal during the Offer Period as defined above and PayPal will match 1% of every donation of $10 USD or more that you make through the PayPal Giving Fund ("Offer") to our featured charities. Your donation will be received by the PayPal Giving Fund, an IRS-registered 501(c)(3) nonprofit organization; and disbursement to your selected nonprofit will follow the regular PayPal Giving Fund payout schedule. You will receive a receipt for your gift and thanks to PayPal's support, 101% of your donation will reach the nonprofit of your choice. Your contribution may be tax-deductible to the extent allowed by law. Please consult your tax advisor to understand your specific circumstances. No goods or services will be provided in exchange for your donation.

Offer Exclusions: The following transactions are excluded from this Offer: any donation made when you are not logged into your PayPal account, including PayPal Extras MasterCard/eBay MasterCard payments not made through your PayPal account.

Eligibility: In order to be eligible for this Offer you must: a) have a U.S. PayPal account in good standing; b) complete a minimum $10.00 USD donation on the PayPal Giving Fund page, designating one of our featured charities using your PayPal account no later than April 23, 2016 at 11:59:59 PDT; and c) be a legal resident of the fifty (50) United States or the District of Columbia, 18 years of age or older, Void where prohibited, taxed or restricted.

Limitations of Liability: PayPal reserves the right to cancel, suspend or modify part or this entire Offer at any time without notice, for any reason in their sole discretion. PayPal is not responsible for technical, hardware or software malfunctions or lost or unavailable network connections, or for any technical or human error which may occur in the processing of the Offer which may damage a user's system or limit a user's ability to participate in the Offer.

Governing Law: These Terms and Conditions will be interpreted, construed and enforced, and governed in all aspects in accordance with the exclusive jurisdiction and laws of the state of California.

Sponsor: PayPal Inc., 2211 North First Street, San Jose, CA 95131.
This email was sent to nititiregmi@gmail.com, because your email preferences are set to receive "News and Promotions". Click here to Unsubscribe.

Please do not reply to this email. We are unable to respond to inquiries sent to this address. For immediate answers to your questions, visit our Help Center by clicking "Help" located on any PayPal page or email.

Copyright © 2016 PayPal, Inc. All rights reserved. PayPal is located at 2211 N. First St., San Jose, CA 95131.
Coupon Code: KMGBLOGGING