Coupon Code: KMGBLOGGING
| | |
| --- | --- |
| Larry E. Stiers – We'll add 1% to your donation to Red Nose Day. | View Online |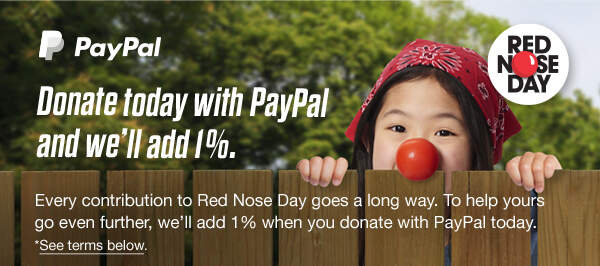 Laugh. Give. Save a Kid.
Red Nose Day uses the power of entertainment to raise awareness and money to help kids all over the world. In 2015, Red Nose Day raised $23 million to help support programs dedicated to keeping kids safe, healthy and educated.
Here are just a few ways donations made a difference in the lives of children in 2015:
Over 30,000 families
now have access to clean water in Africa.

Over 1 million
disease-fighting drugs
were made available to those in need abroad.

200,000 more children
in the U.S. are reading.
The 2016 Red Nose Day charity partners include:

Donate today to join the effort, and don't forget to tune into the Red Nose Day Special tonight on NBC at 9/8c.
*PayPal Giving Fund 1% Donation Match Campaign Terms and Conditions
Make a donation to The Red Nose Day Fund, a program of Comic Relief Inc. registered 501c3, Tax #(EIN) 01-0885377, using PayPal starting May 1st, 2016 through May 31, 2016 and we'll match 1% of every donation that you make through the PayPal Giving Fund ("Offer").
In order to receive this Offer you must: a) have a U.S. PayPal account in good standing, and b) complete a donation on the PayPal Giving Fund page, designating the Red Nose Day Fund, using your PayPal account no later than May 31, 2016 at 11:59:59 PDT.
The following transactions are excluded from this Offer: any donation made when you are not logged into your PayPal account, including PayPal Extras MasterCard/eBay MasterCard payments not made through your PayPal account. Your donation will be received by the PayPal Giving Fund, an IRS-registered 501(c)(3) nonprofit organization, and disbursed to your selected nonprofit. You will receive a receipt for your gift and because of PayPal's support, 101% of your donation will reach the nonprofit of your choice.
Your contribution may be tax-deductible to the extent allowed by law. Please consult your tax advisor to understand your specific circumstances. No goods or services will be provided in exchange for your donation.
PayPal reserves the right to cancel, suspend or modify part or this entire Offer at any time without notice, for any reason in their sole discretion.
This email was sent to nititiregmi@gmail.com, because your email preferences are set to receive "News and Promotions". Click here to Unsubscribe.

Please do not reply to this email. We are unable to respond to inquiries sent to this address. For immediate answers to your questions, visit our Help Center by clicking "Help" located on any PayPal page or email.

Copyright © 2016 PayPal, Inc. All rights reserved. PayPal is located at 2211 N. First St., San Jose, CA 95131.
Coupon Code: KMGBLOGGING